This is my 1994 Ford Ranger XLT extended cab 4x4 with 67, XXX original miles on it. It has the 4.0 engine with manual transmission and TTB suspension. This is a great little truck with tons of life left in it. It will get up and go if you need it to.l have purchased a full size diesel truck, otherwise l would not be selling it. l wouldn't even think twice about driving this truck cross country or camping in the middle of nowhere. It is reliable, dependable and in great shape. Depending on your driving style, you can anywhere from 18-22 miles per gallon in this truck.
The interior is clean with no spots or cracks in the dash. l have done 90% of the work, therefore l know it is done right. l havent taken a single shortcut with this truck. l know it is safe and have no problem letting my wife drive it or taking it hunting. It has serious potential if someone was looking for a good starting point to build something a little more extreme like a prerunner or rock crawler.
Asking $6,000 obo and it is located in Las Vegas. Please email with questions, or leave a number and l will call you back. Thanks for looking...
Here is a list of a few of the items on the truck:
power windows, doors, locks, mirrors
6" Hybrid lift using skyjacker coils and shocks & superflift brackets
Superlift 6" extended radius arms (brand new bushing on the axle end)
Rear greaseable 2" lift shackles
k&n filter
1 piece aluminum driveline swap to eliminate vibrations from lift
brand new u-joints at both ends
extended brakelines
33x12.5x15 Nitto terra grapplers w/ Discount tires warranty (roughly 80-90% tread left)
15x8 black rockcrawler rims
BFG mud full size spare with upright bed mount
Pioneer CD player with front mp3 input jack
Custom rear bumper- l still have the stock bumper and it will be included in the sale
Billet grille
factory foglights (l have them but they are not installed)
Recently charged AC compressor- AC blows cold even in the heat of the day
160* t-stat so you can run the air in the heat of the day without worry of the truck overheating
4wd engages easy
Mechanically everything works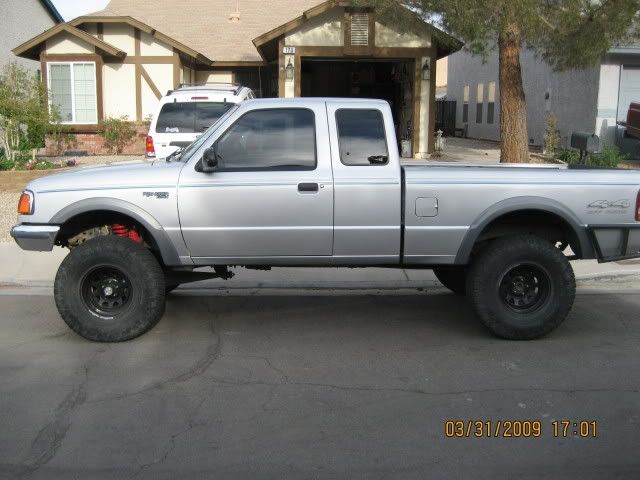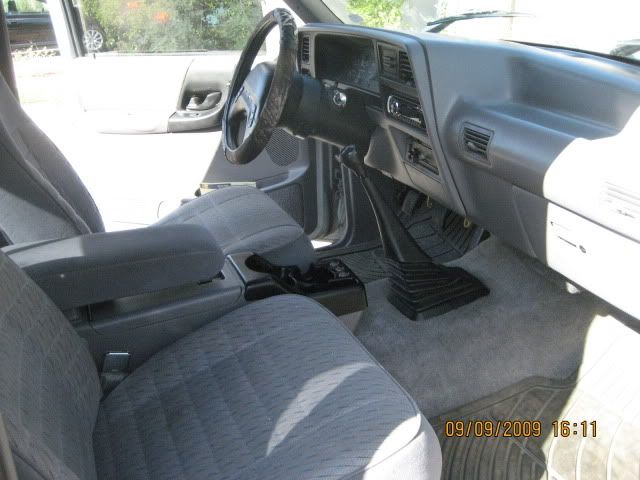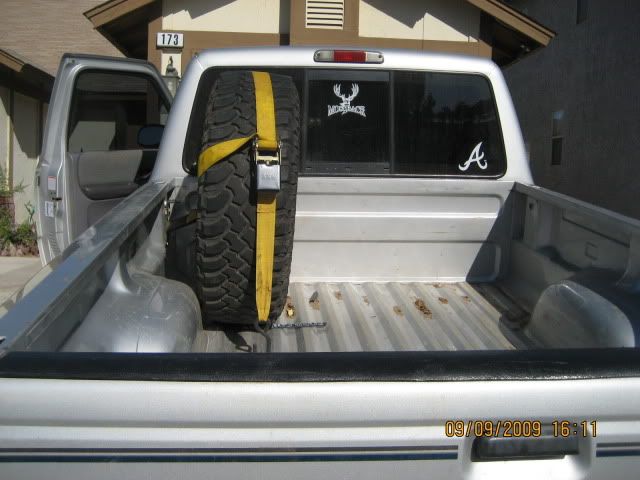 The right thing to do and the hard thing to do are usually the same thing
---
Take that sticker off the back window and the value will go way up!
If its not fairchase its FOUL!
http://www.freewebs.com/lifealongthedge/index.htm
---
---
Yeah l know... it was one of the Christmas presents that if it isnt on there l get questioned "why?" My nephew had all the best intentions when buying it so l figured for his sake l can stick it out.
The right thing to do and the hard thing to do are usually the same thing
---
$5500? obo
All offers considered
The right thing to do and the hard thing to do are usually the same thing
---
bought a truck from a friend with 11k miles on it. my wife loves it. this would be a perfect truck for someone who doesnt need to tow large trailers.
______________________________
ford ranger truck parts
---
2 point

Posts: 248
Joined: Wed Sep 29, 2010 7:23 pm
Location: Western Colorado
Where is it located at?
2010 Strother SR-71 390 grain arrow @ ~60#
>------->
298 FPS with 74.6 KE. Slick Trick Army.
"Is it elk season yet?"
---
---
Who is online
Users browsing this forum: No registered users and 3 guests