Spike

Posts: 63
Joined: Mon Aug 16, 2010 6:27 pm
Location: Reno, Nevada
Ive also heard that it is loud with the muzzle break, but if you buy from Cabelas, they have the option of a rifle without one. I really dont care about noise as much as accuracy and reliability.
---
Fawn

Posts: 10
Joined: Sun Jun 26, 2011 2:47 pm
Location: Utah
I love my Savage 22-250. I use the Nikon coyote special scope and they seem to be the perfect match.
---
Spike

Posts: 129
Joined: Sun Dec 04, 2011 10:46 pm
Location: The Golden State
PredatorSlayer1 wrote:I love my Savage 22-250. I use the Nikon coyote special scope and they seem to be the perfect match.
X2 I have the same set up
---
I'm a fan of the .22-250. I currently shoot a .220 Swift and it's burn on coyotes. Not impressed with the .223. A friend of mine just got one for Christmas, and has "hit" a couple of coyotes with it already, but they've all ran off, including one at 125 yards. I've never had that issue with my Swift, even out to 375 yards. I love my Ruger M77, nothing special or pretty, but will drive tacks all day long. Just got a Nikon Monarch with the BDC ret. in it. Diggin it so far.

As far as an "all purpose" rifle, it's tough to beat a .243. They can be loaded with 58 gr. varmit loads (3600-3800 fps) or up to 100 gr. for deer or possibly elk. (I've seen it done several times, by my friend's mother)
---
I try and avoid recommending specific rifles for coyote. Just too many variables and too much personal preference involved. I will say, for myself, in a factory chambering, I like the .22-250 for coyote. And I'm a turn bolt guy. But, if someone else wants to go to town on them with an AR platform, that's great too!
But as far as chambering selection for coyote, I'm a huge fan of chamberings that shoot EXTREMELY flat. More flat than can easily be had in any off the shelf factory chambering.
To me though, the "main thing" with a coyote rig, is how it fits and handles. Having a triple or even a five pack running over the caller and not wanting to let any of them leave turns into some fast action, fast target aquisition, your rifle better feel right in your hands or you're gonna look stupid in a few seconds kind of action.
So choose a rifle that feels right in your hands, shoulders quickly and naturally and just has the crosshairs painted where you want them almost automatically.
My "main squeeze" on stand for quite a few years now has been my .17 Predator. Which is a necked down, blown out .223 with the shoulder moved forward for increased capacity. My working load has 30 grain bullets moving out at about 4100 fps. Extremely flat shooting, no recoil - I see every shot through the scope, superbly accurate and folds up coyotes like cheap lawn chairs. Here is a picture of my .17P after it's first morning afield.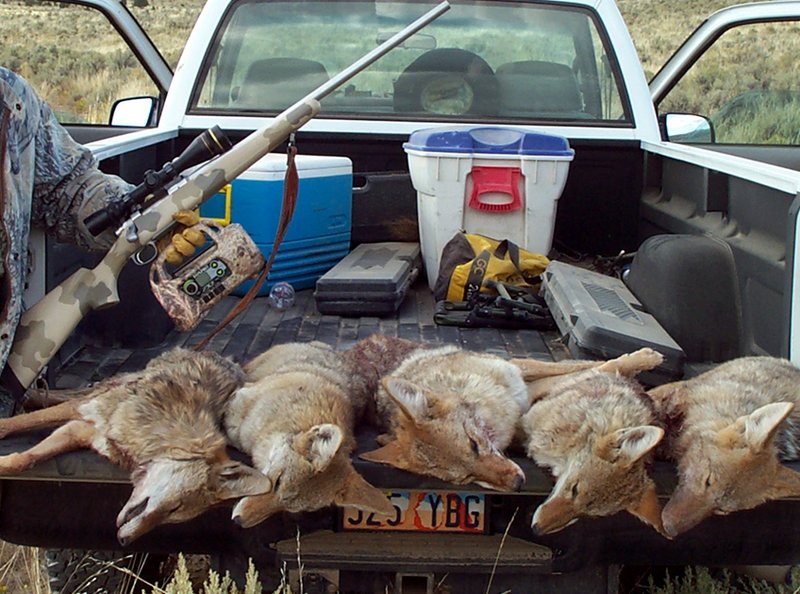 This year though, just for grins, I've been campaigning a 6-284 launching 55 NBT's at a hair under 4300 fps. Shoots even flatter than the .17P, just as accurate, but hits a lot harder (kinda hard on fur...). Here is what it did on it's first full day afield a couple months ago: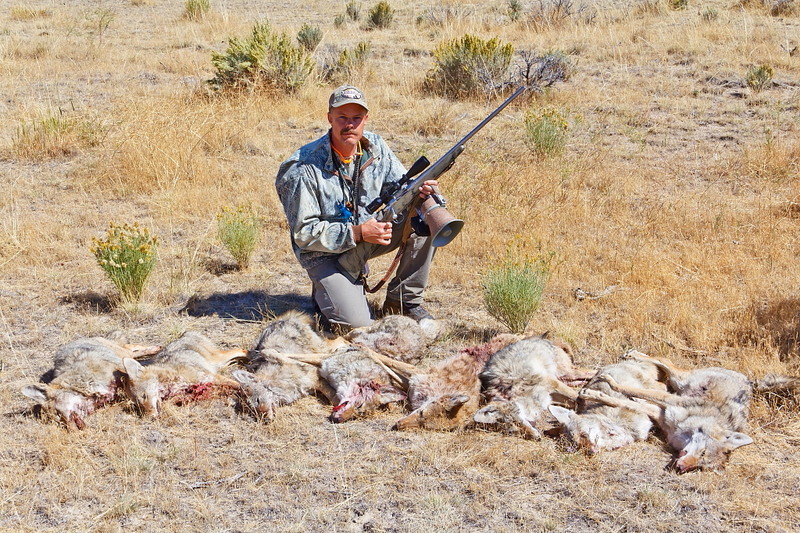 Anyway... My opinion, pick something flat shooting - a .17 Rem, .22-250, Swift, .204 or .243, then get it in a rifle that fits and handles for YOU.
- Dave
---
---
Return to "Cougar, Bear, Coyote Hunting etc."
Who is online
Users browsing this forum: No registered users and 1 guest