Moderator

Posts: 1669
Joined: Mon Jul 04, 2005 8:42 am
Some pics from Fall 10.
RD's first hunt, she did pretty well.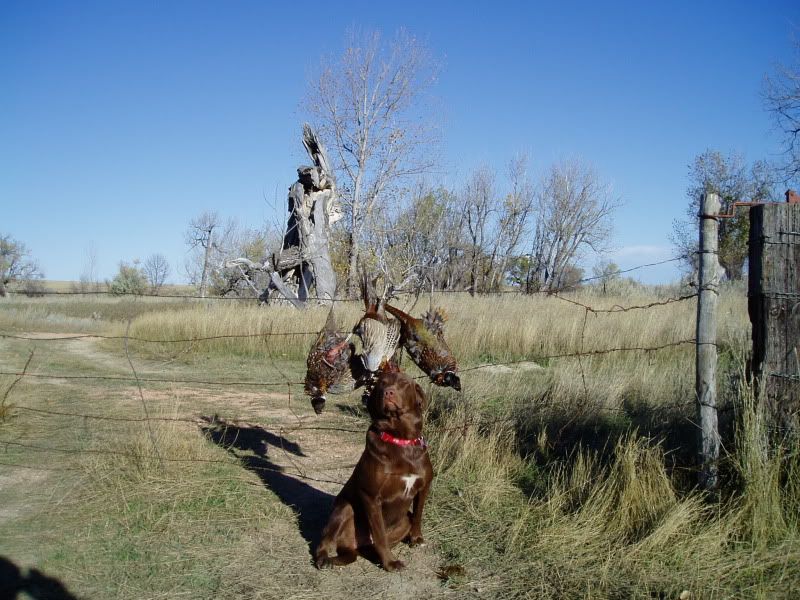 ---
Nicely done. I love watch a good bird dog work. Nice pics
A 'Veteran' whether active duty, discharged, retired, or reserve is someone who, at one point in his/her life, wrote a blank check made payable to 'United States of America,' for an amount of 'up to, and including his life.'
---
Doesn't get much better than to be upland hunting with your dog.
---
Fawn

Posts: 33
Joined: Wed Jan 26, 2011 10:13 pm
Location: Central Wisconsin
Pretty birds! Job well done. I got my first pheasant during the fall of 2009 and haven't had luck since, but I don't have much ground to hunt. Hopefully my GSP can help me out baggin my next pheasant (if there is a next) and also my first grouse that I've been workin' at.
---
Spike

Posts: 96
Joined: Sun Sep 20, 2009 4:45 pm
Location: Northern Colorado
Lookin good. Hunting with the dogs is great. Took mine out today for a little work finding pheasant wings.
---
---
Return to "Upland Game & Waterfowl"
Who is online
Users browsing this forum: No registered users and 1 guest