Monster

Posts: 843
Joined: Fri Sep 14, 2007 7:18 am
Location: home
Well last night with just minutes left in legal muzzle loader season my wife got her buck.
We met after work my wife our 2 year old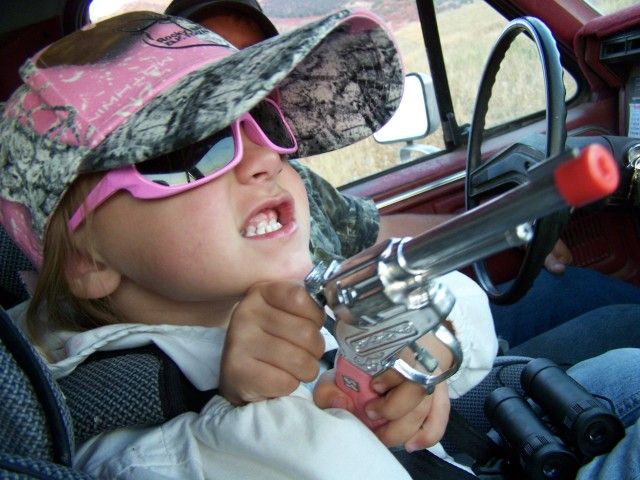 and I, and decided to make a last drive around the country to see if we could find a buck for her to shoot. Her being 8 months pregnant we are limited to what she can and can not do. Short stalks are ok but with contractions it makes her very uncomfortable. So we are road hunting this time.
At 6pm we spot our first buck a small 2 point walking out of covers about 400 yards up a ravine. There was good cover so we decided I would stay with the truck and she would hike up a small hill and try and get to within 100 yards. As she crested the hill and started to glass the hill looking for the buck a doe busted her and took the herd away.
I called her back to the truck and we where off again to locate any other buck we could find.
About 15 minutes later I turned up another buck with the spotting scope. A nice 3 point with 8 does and fawns. They were feeding to water and in the tall grass and sagebrush. I had serious doubts that they would make it to where we could shoot at him by dark and the last hike took all my wife's energy out of her. So I drove a little farther to see if there was anyway we could cut them off and get her into shooting distance without to much strain on her. As we topped a hill on the other side we saw a truck and I knew what was going on these guys where on the stalk to the buck. I turned just in time to see smoke fly and the deer scatter and run back to cover. Now just 20 minutes of light left I decided to go back to where we had been and see if the little 2 point had come back down the hill to get him a drink.
After glassing for 5 minutes or so I spotted him way off in the distance eating joyfully.
Looks like our luck has run out I told my wife and we started back out of the valley. We made a turn and to the right I saw a deer all by it self and told Lindsay to glass thinking it was a doe looking for her fawn.
She turns and says OH ITS A BUCK. 100 yards away and trotting away from us I told her there is a road that intersects this road about 200 yards away I drove there as fast as I could and as we got to the turn the deer was just off the side of the road 200 yards away. I turned and the deer bolted back to where it came from I closed the distance with the truck and we pulled off Lindsay Jumped out put the muzzle Loader on the fence post. I jumped out the driver's side and the buck was standing broad side 125 yards away. I said aim just to the top of the back because the last 2 times she shot she shot under her deer.
BOOM! THWACK! The buck jumped high in the air and disappeared. I could not see him and searched the area for 2 hours. Not a speck of blood. I knew he was hit good, where could he have gone? I decided to look at first light, sleepless night for both me and my wife. First light reviled not much more than the night no blood could be found. Cover on the left and straight head he could have made it to either if he was not hit well. I searched the area long and hard and decided to head to the farthest cover first and make my way back to the other side. As I walked to the first dense cover I spotted something in the tall grass.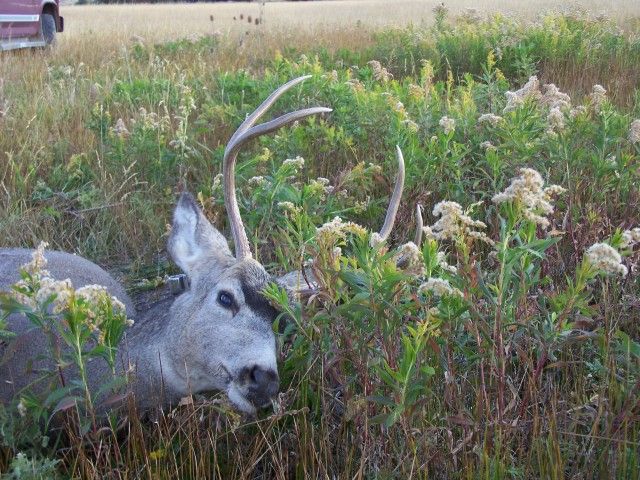 This is just as I found him. 100 yards away from where she shot him. No blood at all on the ground. Her shot severed both arteries the buck bled out internally.
I tell you if you have never cleaned a deer after a night of sitting I tell you it smells bad. I gagged a few times (week tummy)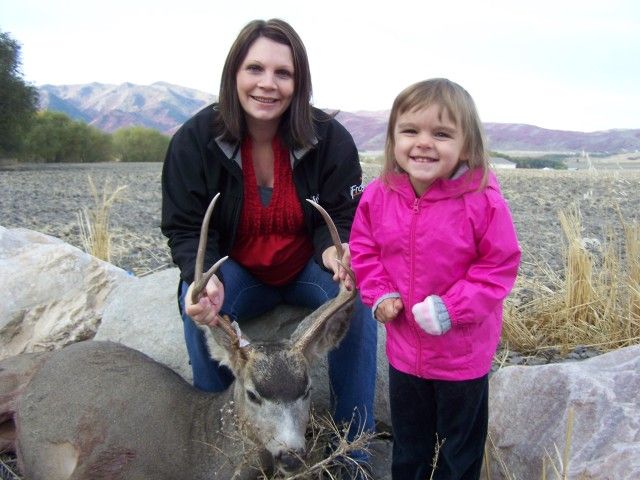 Genesis 27:3
Now take your hunting equipment, your quiver and bow, and go out into the open country and hunt some wild game for me.
---
2 point

Posts: 258
Joined: Wed May 02, 2007 10:53 am
Location: Utah
Good for you guys. Good to see the family together. Congrats on a successful hunt.
---
2 point

Posts: 197
Joined: Sat Mar 20, 2010 1:15 pm
Location: SLC, Utah
Great job! What could be better? A tag in hand, the crisp chill of autumn, and a buck on the ground with family all partaking in the hunt! Awesome...
---
Great Job, Good to have the family involved in the hunt.
"If you are not working to protect hunting, then you are working to destroy it." Fred Bear
---
Spike

Posts: 54
Joined: Sun Nov 04, 2007 7:05 pm
Location: Tooele, Utah
Congrats to you and your wife. You got a tough wife going out 8 months pregnant. Awesome that the little one got to see it too.
---
nothing like waiting till the last minute
great job to your wife- putting that much effort at 8 months prego is a pretty awesome feat, IMPRESSIVE!!
---
Site Admin

Posts: 9997
Joined: Thu Oct 10, 2002 9:34 pm
Location: St. George, UT
Contact:
Cool stuff, congrats on bagging a buck in crunch time.
---
Moderator

Posts: 2117
Joined: Sun Jul 09, 2006 1:00 am
Location: COLORADO
Congrats to you and your wife.
THE LORD IS MY ROCK



---
4 point

Posts: 646
Joined: Fri Oct 08, 2010 2:09 pm
Location: Clinton, UT
Contact:
Congrats, great story.
"The consequences of our actions are always so complicated, so diverse, that predicting the future is a very difficult business indeed."
-Albus Dumbledore
---
Monster

Posts: 843
Joined: Fri Sep 14, 2007 7:18 am
Location: home
Thanks guys I am pretty pround of her. Our daughter was very happy that mom got a "golden buck" as she called it. It was a great night.
Genesis 27:3
Now take your hunting equipment, your quiver and bow, and go out into the open country and hunt some wild game for me.
---