I had been looking forward to this hunt for quite some time. My family has hunted our area for 45+ years, but it had been 4 since we last drew tags. We were also looking at the possibility of it being our last big group hunt with my dad and his friends, since several of them are now in their early 70s. We were hoping the late season dates would help us go out on top. There were 6 of us total, including a friend who would be deer hunting for the first time.
Well the warm dry fall really put a damper on our hopes as we counted down the weeks. Our only hope was that some of the deer would start rutting despite the hot weather. We pulled into camp Thursday afternoon and got setup, leaving us all day Friday to scout. A front coming in would bring rain, but it wasn't nearly cold enough to bring the snow we were hoping for. Friday's scouting didn't turn up ANY deer, not even does, and very few tracks. Fact was the warm weather was holding the deer up higher, and it might be a pretty slow hunt.
The first few days proved to be slow. I did catch a glimpse of a decent deer at daybreak Monday morning, but he was gone before I got a good look at him. I was staring to see a few more does, so I was hoping eventually a few rutting deer would show up.
Monday evening my dad was fortunate to catch this deer following a doe and fawn in an area he had been watching. It is by far his best deer ever, and he was extatic to harvest such a nice deer in what might be his last time in this area. His deer is just under 31" wide with 2 stickers on each rear fork.
I of course was happy for him, and honestly at that point content because he had taken the best buck of his life. The next day I saw nothing, not even the feeding does I had been keeping tabs on. Wednesday morning I took my buddy with me, putting my hunt on hold and hoping to get him on a forky I had seen a few times. As we walked into the first meadow at daybreak he spotted some deer and went after them. I made my way to a good spot to glass from and immediately caught a few does feeding on the edge of a clearing. They seemed nervous and disappeared into the brush a few seconds later. As I moved to see where they were headed, I saw another deer feeding in my direction and all I could see was antlers! He was a shooter without question, especially with the way the hunt had been. I moved a 20 yards to my left where I would have a window to make a shot and got down prone. I ranged the deer at 350 yards, and got behind the scope...Crap I couldn't see him. I got up and moved again to have a clear window and then waited for him to turn broadside. He did and my 300 WM dropped him where he stood.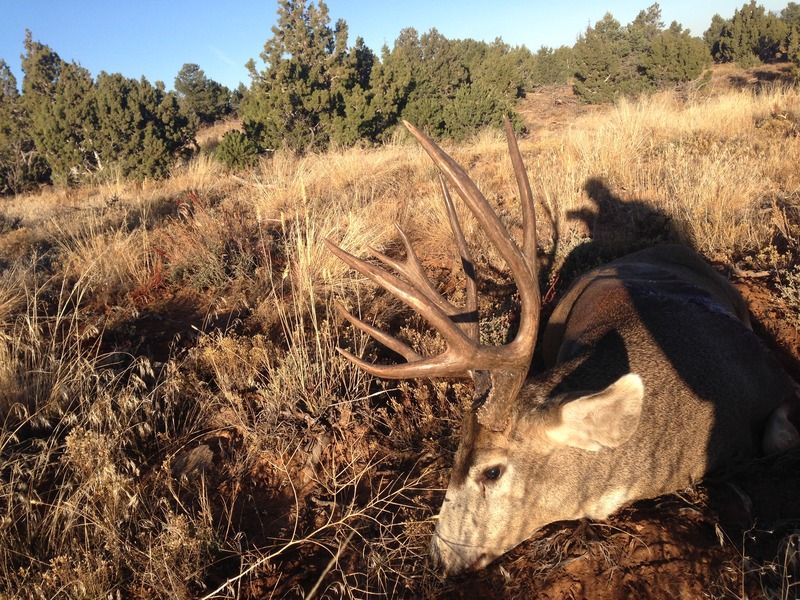 A few minutes later my buddy appeared and congratulated me as we walked down. The closer I got the better he looked, but it wasn't until I was right up on him that I realized how big he was. It was by far my best deer as well, and a dream come true to double up with my dad.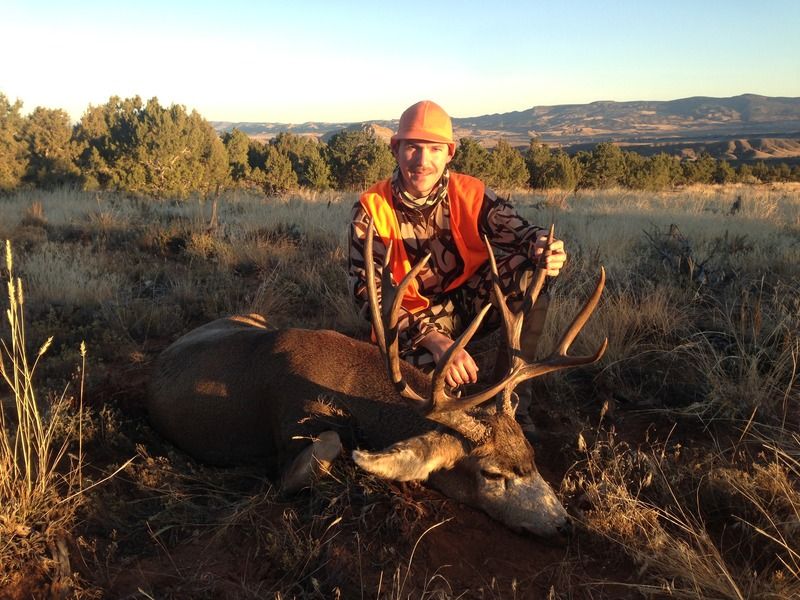 I was able to get my friend on a few deer Thursday morning, but buck fever got the best of him and he froze up on a good 4x4 and then missed 2 shots at a forky an hour later.
In the end only my dad and I filled our tags, but it was a trip we will never forget and definitely cemented our plans to come back again, even with a smaller group.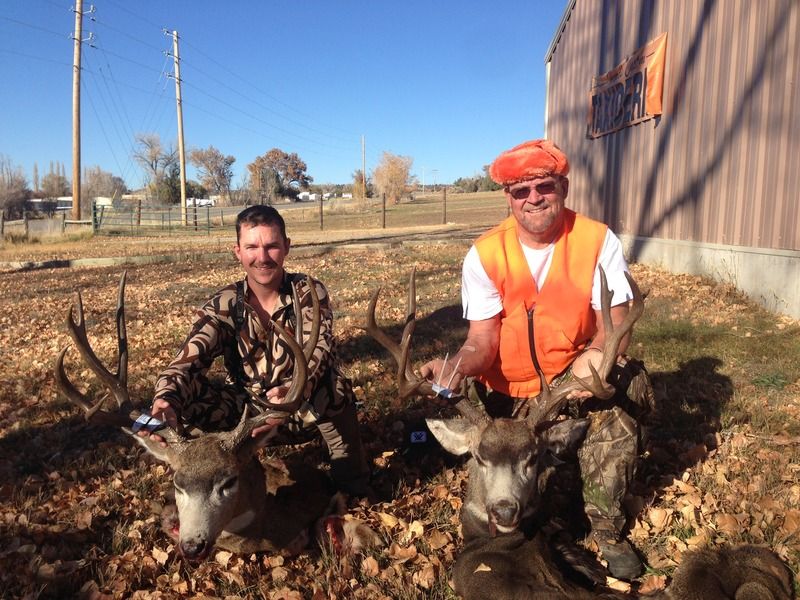 ---
A couple of great looking bucks.

Congrats.
Live to hunt, hunt to live.

Don't argue with an idiot; people watching may not be able to tell
the difference.
---
Nice work. I heard a lot of 3rd season tags went un-punched.
---
Congrats to you and your dad!

My deer tag went unfilled. I saw zero rut activity. I did find a few small bucks but pass. My nephew got his first buck and a very nice one to boot.

I did fill my elk tag (cow) so I've got meat in the freezer!
It ain't the size of the gun but the placement of the bullet.
---
2 point

Posts: 177
Joined: Sat Apr 06, 2013 12:30 pm
Location: Texas
---
Site Admin

Posts: 9997
Joined: Thu Oct 10, 2002 9:34 pm
Location: St. George, UT
Contact:
Awesome, tough to beat two best bucks in one trip. Good stuff, congrats!!
---
Thanks everyone. It was definitely a tough hunt, with 4 other guys in our group going home without deer and only one of them even seeing a shooter.

Needless to say the hunt got expensive as now we have to get them both mounted!
---
Very nice deer!
I think I can guess where you got the second one from the background (but I won't tell
)
---
Fawn

Posts: 15
Joined: Tue Aug 24, 2010 8:34 am
Congratulations again. For being a tough year I've seen some nice bucks come out of there still. Here's to great memories that will last forever .
---
2 point

Posts: 177
Joined: Sat Apr 06, 2013 12:30 pm
Location: Texas
huntingal wrote:Very nice deer!

I think I can guess where you got the second one from the background (but I won't tell

)
Yes, SHHHH.....
---