We finally got the wifes muley put together. I did not alter it much. Just tilted the head up just a little. It turned out awesome !
Field photo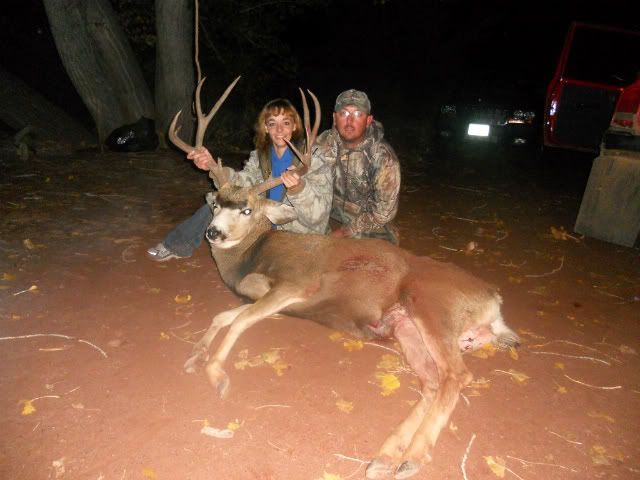 The form after being altered
Mounted
I will post the final pics when it gets home. My sons buck will be mounted next week.
Quinton
---
2 point

Posts: 248
Joined: Wed Sep 29, 2010 7:23 pm
Location: Western Colorado
Looks good!
2010 Strother SR-71 390 grain arrow @ ~60#
>------->
298 FPS with 74.6 KE. Slick Trick Army.
"Is it elk season yet?"
---
Thanks much ! I brought it home tonight and what a great addition to the house...
---
Site Admin

Posts: 9997
Joined: Thu Oct 10, 2002 9:34 pm
Location: St. George, UT
Contact:
---
awesome buck and great job on the taxidermy.
Romans 13: 1-4
---
Monster

Posts: 1138
Joined: Wed Nov 26, 2008 12:50 am
Location: Central Region, Utah
With your wife and son adding to the "wall" you'd better build onto your house. You also better get better home owners insurance. I don't know how someone could get through your home without being gored.
On a serious note congrats to your wife.
"Some day I'll scout out a monster, spot him while hunting, make the stalk of a lifetime, and have dreams come true. 'Til then I'll be happy with the buck in my cross-hairs."
---
Thanks much guys !
NotEnufTags,
I would love to add on or make the kids' room into a trophyroom some day . But until then, "You just got to be careful coming through the livingroom !"
Quinton
---
That's a great looking mount for sure!
---
---