Only my 280 has accutrigger. The others were non-accutrigger.

Lazz and savage and also Lazz and sako teamed up for a short while and produced some savage and sako rifles in various Lazzeroni rounds. I bought on. It is the short mag 30 cal. patriot round. I put a better recoil pad on it, but no muzzle break. It is not much different in recoil than a 300 wsm. It has less than 200 rounds (fired) that I did for load developement.
---
I hunt everything with a 270 winchester now. It doesn't kick much. My all time favorite rifle was an ultralight Weatherby mark 5 in 338-06. With the 185 grain Barnes triple shocks it shot as flat as my 270 but kicked pretty badly. I've still got the scar on my right index finger from the bolt handle. It just plain flattened critters though and was nice to carry.
Mark
---
2 point

Posts: 247
Joined: Wed May 30, 2007 9:49 pm
Location: Pueblo, CO, USA
Contact:
223 243 270 30-06 7mmRemMag.
---
SHOULDN'T WE RENAME THIS THREAD TO " IS THERE ANY GUN THAT IS AS GOOD AS A 300WEATHERBY"??????????
---
My forum name is a giveaway, I too shoot a Lazzeroni, the 30 cal. Warbird.
It was given to me as a bonus at work(best way to keep employees in my opinion).
I use it for all but eastern whitetails, a Browning A-bolt in 30-06 gets the nod there.
-wbird
---
Spike

Posts: 105
Joined: Tue Jul 24, 2007 10:36 pm
Location: Az
I use a lever action 257 roberts
---
A lever 257 bob? That's cool ,is it a browning or what?
---
southwind wrote:A lever 257 bob? That's cool ,is it a browning or what?
i was thinking the same thing. i've never seen one. my dad used to have a mauser 98 257 roberts, sold it
they really are a great gun
---
I though I had replied to this thread....guess not.
I shoot a Marlin 1895 (22" barrel) chambered for 45-70 Gov't. I shoot a 300 grain Nosler Partition that sits atop 55 grains of H4198 and travels around 2,250 fps.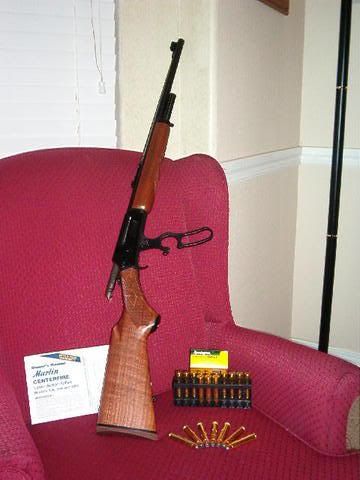 She's SOOOOOO nice.
Guess what? I got a fever! And the only prescription is more cowbell!
---
Fawn

Posts: 12
Joined: Fri Oct 13, 2006 11:01 am
Location: Eielson AFB, AK via Mountain home, ID via IOWA
I shoot a Winchester Model 70 stainless sinthetic with the BOSS chambered in 270. What a shooter she is. She is heavy but I will never get rid or her. You dont get rid of guns that where gifts or family hand downs.
---