My wife and I were lucky enough to draw some good antelope tags for Wyoming last year. After the rough winter I was nervous that all of the Antelope died in the Unit. I was happy to see after the first scouting trip that our hunt was going to be fun!!! I tried to bowhunt these amazing animals by spot and stalk and quickly decided to come back with the rifles. I shoot a .300 RUM and my wife was shooting a .243.
The night before the hunt we were all alone on top of a little hill looking at some good bucks. I decided that if I saw my buck in the morning that I would shoot him. After a fun night of camping with the family and an early morning. We were back in position looking over the valley where I left "my buck" the night before. After several minutes of scouring the sage with my Vortex Razor 10X42s. I found him pushing some other bucks around and chasing some does. I made the decision that if I could sneak in on him that I would cut the tag. I couldn't close the distance initially to under 800 yards. After 30 minutes of repositioning I was able to get within 320 yards... I put the SnipePod down and was able to hit him perfectly. He ran as if he wasn't hit and with the recoil I couldn't tell that I had hit him. My little boy told me that I hit him and that he knew he was down just over the hill. He was right. This was my first antelope buck and I was stoked.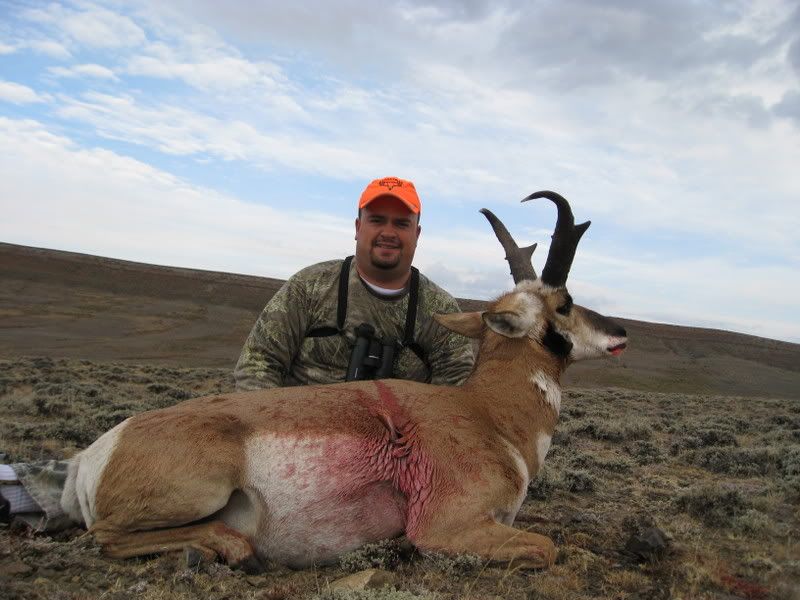 Now that mine was done, the hunt was on for my wifes. After several hours of looking over bucks and trying to outwit their amazing sight. We found "Flare"... Flare was a cool buck that had a cool Horn Configuration that my wife wanted! After cutting the distance to 230 yards, she was able to drop this buck in it's tracks with a well place shot. She had to compensate for a 20+ MPH cross wind and here are the results.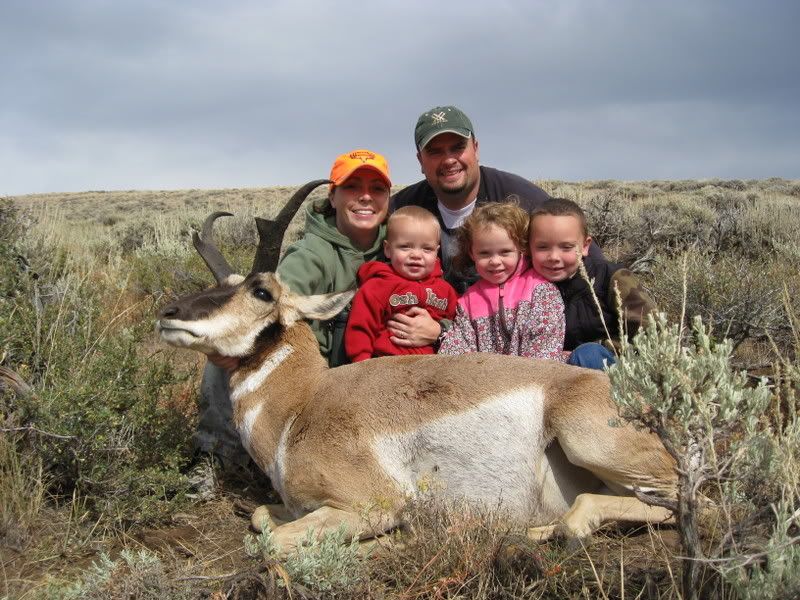 Here are the mounts done by Paul Pennie.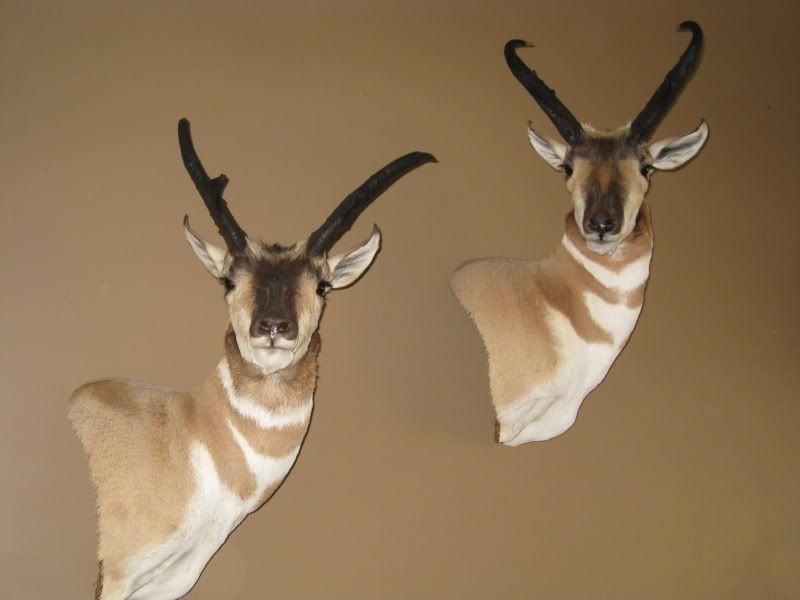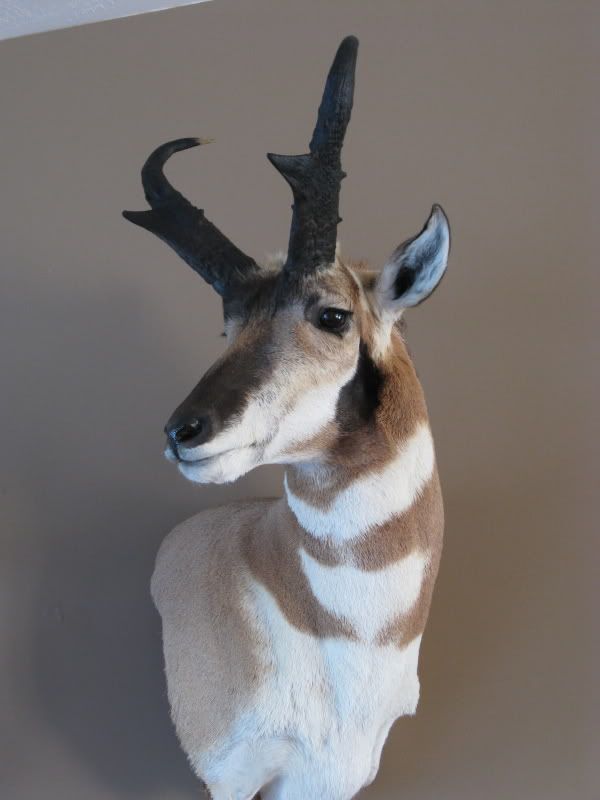 CS
---
Moderator

Posts: 2117
Joined: Sun Jul 09, 2006 1:00 am
Location: COLORADO
Chris, good looking bucks you and wife took and a great looking family.

Very nice pics and a good story to support the pics thanks for posting it.
THE LORD IS MY ROCK



---
cowslayer, You and your wife did good.
Way to include the whole family, it doesn't get any better than that. Thanks for sharing.
Hiker

Proverbs 3:5-6
---
Hiker wrote:cowslayer, You and your wife did good.

Way to include the whole family, it doesn't get any better than that. Thanks for sharing.
+1
VERY COOL! CONGRATS
---
Makes you wonder, perfect hit with a 300 win mag at 320 yards and the lope does not show any sign of being hit. Your wife drops one in it's tracks at 230 yards with a 243.
Bear2
---
Isn't that funny! I hit mine right behind the shoulder missing the shoulder and or spine and my wifes was about the same distance back just a little bit higher and broke it's back. That being said that .243 is a great gun for antelope... my mother in law shot this antelope in it's bed at 75 yards and it just rolled over and was dead as a doornail. She broke the spine and shoulder.
Chris
---
Fawn

Posts: 8
Joined: Tue May 12, 2009 3:16 pm
Location: Ogden, Utah
Last year while doe antelope hunting the same thing happened with me and my brother in law. I was using a 30-06 and he was using a 22-250. I guess shot placement is important.
GO figure
---
4 point

Posts: 739
Joined: Wed Feb 21, 2007 3:23 pm
Location: South Slopes of Utah
WOW! Nice speed goats.. I love the mounts
I think its awesome that you involved your whole family.. Cute family photo with the buck ..
---
Monster

Posts: 1138
Joined: Wed Nov 26, 2008 12:50 am
Location: Central Region, Utah
Awesome experience. Thanks for sharing. I've never hunted goats before. I missed the drawing but plan on purchasing a bonus point next month. Hopefully next year I'll get to more fully understand your accomplishment. Congratulations.
"Some day I'll scout out a monster, spot him while hunting, make the stalk of a lifetime, and have dreams come true. 'Til then I'll be happy with the buck in my cross-hairs."
---
Site Admin

Posts: 9997
Joined: Thu Oct 10, 2002 9:34 pm
Location: St. George, UT
Contact:
Very nice looking family and a couple of great looking Speedgoats.
---