I went down to Utah Lake for an afternoon of fishing and had one of the strangest days of catching that I have ever had.
For those that don't the lake Utah Lake is a shallow warm water lake that holds bass, perch, walleye, bluegill, bullheads, channel cats and tons of carp. It's shallow enough now that the water stays silty all the time even when it is froze over.
So when I started hauling these out of the water I was a little surprised.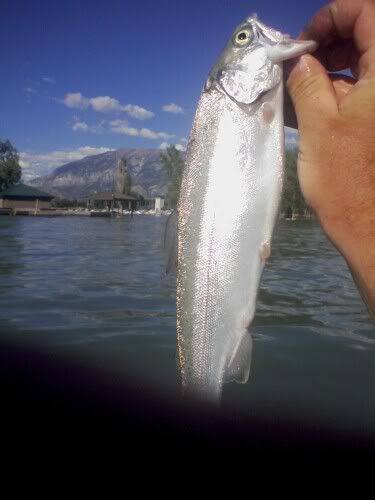 The best one of the bunch.
After awhile I finally picked up a white bass to use for bait so I went out looking for a catfish to eat some of my white bass meat and picked up this little surprise.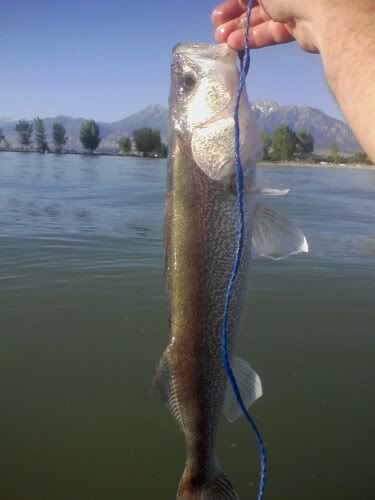 I'm not complaining at all it's just not what I had in my mind when I set out to go fishing that day.
Which brings a question to mind what has been your stangest day of cathing that you have had?
Live to hunt, hunt to live.

Don't argue with an idiot; people watching may not be able to tell
the difference.
---
I tried Jordanelle for my first time going after Bass and killed the big browns on Rattle traps. Great day but not what I was trying catch.
---
Moderator

Posts: 2117
Joined: Sun Jul 09, 2006 1:00 am
Location: COLORADO
Well trolling for Muskies with 12 inch long jointed stick baits on the upper Niagra River in Buffalo,NY I caught a 14 pound, 32inch walleye. The tail end of the lure was bigger than his mouth LOL.

Once I was realing in a meduim sized bass and it was boat side when a BIG pike came out of nowhere and ripped him apart the pike got wrapped up in my line and we were able to net him and then release him he was 44 inches and weighed roughly 19 to 21 pounds.
THE LORD IS MY ROCK



---
trout out of Utah lake .......interesting
---
---
Fawn

Posts: 18
Joined: Thu Sep 01, 2011 12:29 pm
Location: Central Arizona and Southeast Alaska
The strangest i have had fishing is in Ak. Was reeling in a nice salmon when i seal decided that it wanted it more than me. We both ended up with half a fish at the end.
---