Click Here for H & H Hunt'n Outfitter Service Reviews


Warning: getimagesize(/usr/home/muleymadness/public_html/muleymadness.comhttp://www.huntingoutfitters.net/guide_images/Mike-2a.jpg): failed to open stream: No such file or directory in /usr/home/muleymadness/public_html/muleymadness.com/hunting-guides/guide.php on line 101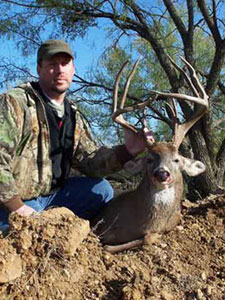 Contact Information
Address
1446 F.M. 3208
Lipan, TX 76462
USA




Species Hunted:
Mule Deer
Whitetail Deer
Elk
Antelope
Mountain Lion
Bear
Fish
Turkey
International Game
Exotics
Boar Hogs
Javelina
Areas Hunted:
Louisiana, Texas, New Mexico
About:
If you want to experience the hunt of a lifetime, give H & H Hunt'n a chance to make your dreams come true. At H & H Hunt'n, customer satisfaction is our #1 goal, and that's no BULL!
Submit a review for H & H Hunt'n Outfitter Service
Average Rank:
1
/5
There are
2
review(s).
---