and this. Sorry you cant see it to good but i took this pic yesterday after this buck busted me. He was a way nice buck to.

Cody
Old hunters NEVER die,they just have better camo.
---
Good photos Boner!
Nothing like the great outdoors!
---
So heel points are Muley bucks? Elk bulls have no heel points?
The more people I meet the more I prefer dogs!
---
When I see a big track I look to see how long it is and how pointed it is. In sandy rocky areas it will be rounded and have chips out of it if the animal is old. I also will follow the track to see how the animal walks, which is more important than size. If it's a big track but the rear foot comes down slightly outside the front and overlaps, it's a huge old doe. Hips being wider than the shoulders. A doe will be heavier in the rear and the rear track will be a little deeper usually. A buck will be wider through the shoulders so his rear track will be inside the front and (as rut approaches especially) the front hoof will sink deeper than the rear. If the rear foot is nearly a mirror of the front he is young and not very long bodied yet. If the rear foot lands halfway back or further from the front he's older and longer bodied. Also as they get older the back sways which affects the angle of the hips so he can't bring the feet as far forward and he's probably getting stiff from arthritis too. Just some things I've noted over the years. Hope this helps.
God bless.
Mark
---
m gardner wrote: Just some things I've noted over the years. Hope this helps.
Every little bit does
That was quite a bit!
Thanks!
The more people I meet the more I prefer dogs!
---
heck i might even look like i know what im doin now. thanks guys
---
Here's a decent track I ran into in southern Utah. That is a 30-06 cartidge.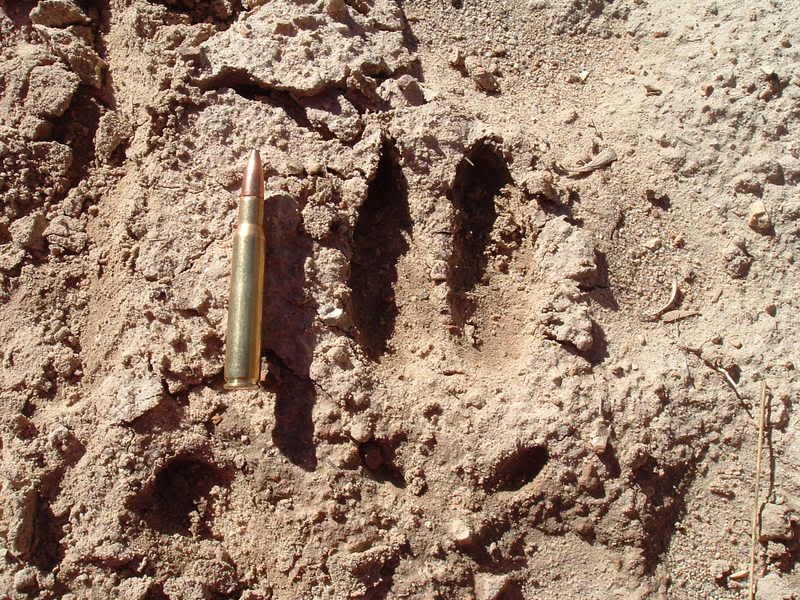 "The one's who tell don't know, and the one's who know don't tell!"
---
Site Admin

Posts: 9997
Joined: Thu Oct 10, 2002 9:34 pm
Location: St. George, UT
Contact:
Nice pic Legacy,

Here is a pretty good track also.
---
Spike

Posts: 52
Joined: Wed Sep 12, 2007 8:19 pm
Location: Logan UT
Most big buck Tracks around here are alot more Blunt toed but neat pic none the less
One shot is all I Got.
Better make it count, or reload fast.
---