Monster

Posts: 1190
Joined: Sun Dec 11, 2005 5:13 pm
Location: Utah
Best day I've ever had at Strawberry...ever. I'm finally posting about it 1) because of time and 2) because I'm slowly realizing that that was a very rare and special occasion. After 3 other trips out there this year none of them have come close. I landed 7 fish, and lost 3. Caught 3 Cutts over the slot (couldn't believe it) including this big guy pictured. I know 'it never happened if you don't have a pic' but I lost a HUGE rainbow right at the hole (only bow I saw all day). Had him near the hole twice, he ran each time, had him at the hole the 3rd time and my line snapped about 3 feet away from the hole. I had already caught a cutty over the slot by that time, but it wasn't big fat and mature like that rainbow, so I was pretty disappointed. Luckily my next fish was this big cutthroat pictured. Not as big as that rainbow for sure, but it made my year and definitely lessened the sting of losing a monster. The other cutts looked healthy for sure, but were just long and skinny. Such a good day though. I have to give a big thank you to whoever ran over to snap some pics for me. I was fishing alone, and when I saw that I had another big one at the hole I yelled at some guys nearby asking if they'd take a picture for me. They helped me land him and we got some quick pictures before turning him back through the ice. I keep telling myself I could have a day like that again, but idk if I ever will...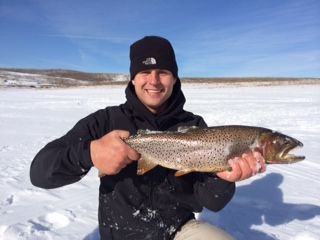 ---
Site Admin

Posts: 9997
Joined: Thu Oct 10, 2002 9:34 pm
Location: St. George, UT
Contact:
Looks and sounds like a blast!!
---
That is one of my favorite reservoirs. Good trips make for a long drive if you have to. I remember going there around July last year and catching quite a few salmon. Made my trip worth it. Awesome pic and story.
---