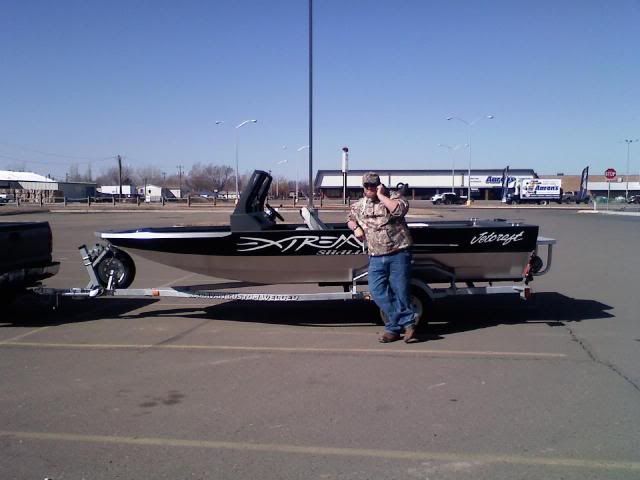 My new boat......just got the break in done day before yesterday.
---
Well, that's really kool !!
---
My 04 Nitro, first thing I ever bought that was a major purchase and was brand new! Doesn't do me as much good in NM, but was great when I was stationed in FL. Can't wait to get out of the AF and get back to FL!
---
---
Fawn

Posts: 46
Joined: Thu Jun 16, 2011 9:31 pm
20K+ outdoor related pics and not the first pic of the boat.. but can get the idea from the pic on the dealership website.
'04 178V Progator
color scheme is different, mine is Red flake where the white is and silver flake where the red is in the pic.... with a 150 Johnson
---
2 point

Posts: 206
Joined: Tue Jul 15, 2008 11:17 am
My son's graduation present from his mother and I. We figured that graduating with a 4.0 gpa was worth a reward. It is a 2005 Eclipse 1542 with a 2004 Suzuki DF 25 four stroke motor. The ducks at Bayou Meto better beware!
Attachments

Zackduckboat.JPG (66.07 KiB) Viewed 10751 times
"The things that are over my head are under God's feet." Adrian Rogers
---
2 point

Posts: 170
Joined: Tue Jun 01, 2010 6:30 pm
Location: Reno Nevada
Thats an awesome gift!
The Buck Stops Here
---
Here is my 09 Bayliner 185 which usually spends most of it's time on Lake Powell
Attachments

DSC01215 resized.JPG (83.48 KiB) Viewed 9763 times
---