I got referred to a group called the Sgt. Daniel Gurr Foundation last year. They take disabled vets out on hunts. They took me on an amazing antelope hunt in Wyoming in Sept 2013. The experience was amazing. They went above and beyond what I would have expected if I had hired an outfitter to take me. They even got the buck mounted for me. They are some of the greatest people I have ever met. David and Dana lost there son Daniel in Afghanistan Aug. 5th 2011.
My son was getting bored with the hunt (he loves fishing). We came across this buck and they told me it was a shooter and asked me if I wanted to shoot it. I decided that I would. So I asked my son (he was 7 at the time) if I should shoot it, so he could have the claim of picking it out. He still talks about how he told me to shoot it and that it is bigger than we thought. He was excited cause we could go fishing now.
I have never measured an antelope before. Based off what I could find on Boone-Crocket.org I measured it. The web site gave me the score. Its horns were 14" and 13 6/8" long. The bases measured 7" and 6 4/8". The prongs measured 5 2/8" and 4 6/8" There were 2 3/8" deductions, final score was 76.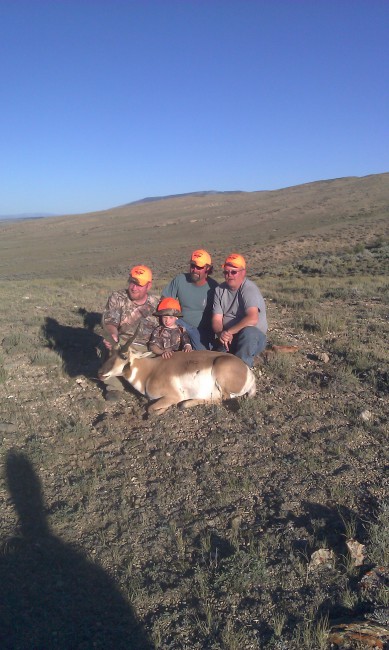 ---
Site Admin

Posts: 9997
Joined: Thu Oct 10, 2002 9:34 pm
Location: St. George, UT
Contact:
Thanks for sharing, sounds like a blast.
---
Great story, thanks
"If you are not working to protect hunting, then you are working to destroy it." Fred Bear
---