Click Here for Flatwillow Creek Outfitters Reviews


Warning: getimagesize(/usr/home/muleymadness/public_html/muleymadness.comhttp://www.huntingoutfitters.net/guide_images/flatwillow.jpg): failed to open stream: No such file or directory in /usr/home/muleymadness/public_html/muleymadness.com/hunting-guides/guide.php on line 101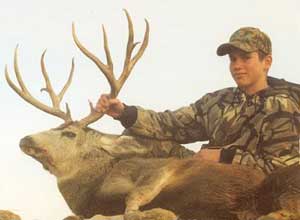 Contact Information
Address
P.O. Box 30 Petrolia Rt.
Winnett, MT 59087
USA
Phone: 406-429-5601
Contact: Dwane K. Kiehl
Email: kiehl

null

null

@midrivers.com
Website: http://www.huntinfo.com/fwc/
Species Hunted:
Mule Deer
Whitetail Deer
Antelope
Waterfowl
Predators
Upland Game
Areas Hunted:
Montana
About:
We offer hunts for both Mule Deer or Whitetail, Antelope, and Elk on our large private ranches. These ranches are managed with the wildlife and trophy quality in mind. Rifle Elk hunts are by special permits only. The success rate on the permit draw is low but the elk are big and plentiful.
More Information:
Flatwillow Creek Outfitters is a full service outfitter. We will feed you two good, hot, ranch style meals a day plus a generous sack lunch while enjoying the hunt. We provide a comfortable hunting camp with plenty of space. Good beds and a hot shower await you at the end of your day. We will pick you up at the Billings Airport and take you back when the hunt is over. If you prefer to drive from the airport car rentals are available in Billings. We care for your trophies and meat as if they were our own. We will either package your trophy for your journey home or deliver it to one of our experienced taxidermists. We take all of the meat to a processor in Winnett. You may either take it with you or make arrangements with the processor for shipping. We do not cover taxidermy, meat processing or shipping expenses. Flatwillow Creek Outfitters is located 100 miles north of Billings in one of the least populated counties in the United States. From the foothills of the Snowy and Judith Mountains to the Ruff timber covered Missouri and Musselshell River breaks and in between on the vast sage brush prairie with willow and cottonwood choked creek bottoms. This is some of the best hunting in Montana with high game counts and good 4x4 accessibility. In addition to what we own, we have leased thousands of acres of the best hunting in this area.
Submit a review for Flatwillow Creek Outfitters
Average Rank:
5
/5
There are
4
review(s).
---