Roy Grace is a serious bowhunter that has consistently arrowed big game animals for over 30 years. Not only is he a senior / lifetime member of his state archery organization (California Bowmen Hunters), he is also a committee member/official measurer for the Pope & Young Club as well as an official measurer for the Boone & Crockett Club.
His ability to bowhunt several states each year has enabled him to arrow over 150 big game animals throughout his bowhunting adventures. Of those, over 25 have
the friendly atmosphere at MuleyMadness is second to none
been entered and accepted either into the Pope & Young/Boone & Crockett records program and/or the respective state's archery record book system. Several of his bowhunting adventures have been published in national bow hunting magazines along with frequent periodicals on bowhunting ethics and fair chase. Roy feels very blessed and credits much of his success to the love and support of his wife, Anne, and two children Cody and Makayla.
When you want to come to a mule deer hunting website and learn some valuable information from friendly hunters who can share their experiences and expertise with you, MuleyMadness is the place for you.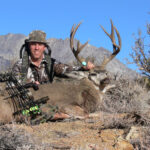 ---
"Bowhunting has been a part of Jeremy's life since he got a bow for his 8yr old birthday and it didn't take long until he was able to harvest his first rabbit with that bow.
Jeremy was born, raised and is now raising his own family in Kanab, Utah. While growing up Jeremy's father Robert always took the time to take him hunting every year without fail. Now Jeremy is doing the same with his four children. They include two boys, Wyatt and McCoy as well as girls Allie Jo and Jaydee.
"I really enjoy the hometown feeling of MuleyMadness"
In just his 30′s Jeremy as harvested some tremendous trophies with his bow and arrow. For the past 10 years Jeremy has mainly hunted in Arizona, Idaho, and Utah. With over 35 big game harvests to his credit, 15 exceed the minimum requirements for the Pope and Young all time record book. Over the years many of these trophies have been featured in several different publications.
Jeremy's love for the outdoors and mule deer has gotten him into photography. He has taken some incredible images over the years and his work is frequently used in many publications. To see some of his work visit his site at ‪www.muleyphotos.com.
Jeremy simply loves to be in the outdoors with his camera, however come August you can bet he will be in Southern Utah chasing large velvet covered antlered mule deer with bow in hand."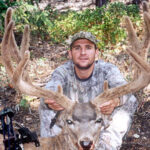 ---
Simply put, Kolten Banks is a Big Game NUT!  Kolten's passion is Mule Deer, but that's not the beginning or the end of his love for the outdoors and Big Game.  Kolten has taken one of the largest Desert Bighorn Rams ever in Utah.  Kolten's first deer hunt was at 2 weeks old on a limited entry unit in Utah, and he has been roaming the hills ever since.
Kolten's favorite thing to do is look for big bucks, whether he has a tag or not he love's to be outdoors checking trail cams, videoing and taking pictures, or just sitting on a ridge glassing for the biggest buck he can find.
Hunting is a year round sport for this Mule Deer nut. In the summer it's gearing up with trail cams and scouting for velvet bucks. In the fall Kolten is either hunting for a big buck or helping someone that has a tag. Early winter finds him searching for those big ruttin' bucks, when that's over and the bucks cool down he tries to keep his sights on a couple good bucks and bulls in anticipation of the shed season.  Then everything starts over again the following year.
Although hunting, scouting, and shed collecting is fun and exciting; Kolten just can't get enough of big trophies. So he started making Reproductions and antler repairing part-time.  TRIGGER FINGER REPLICAS.
Kolten is still in pursuit of his goal of taking the buck of his dreams.  But with patience and passing up on everything small or to young he has been fortunate to take a couple great trophies including a 600lb black bear from Colorado as a freshman in High School as well as his before mentioned Desert Big Horn Sheep in 2010.
Look for big things to come for Kolten, his dedication, knowledge, and experience at a young age is impressive.
---
Brett Wilson was born in Cedar City, Utah and raised in the desert heat of St. George, Utah.
Brett has always had a passion and love for Mule Deer. Simply put a "die hard" when it comes to big bucks. Nothing thrills him more than putting his binoculars, scope, or better yet; a camera on a huge buck. Brett's passion for the outdoors and nature has driven him to create MuleyMadness where all people can enjoy information, tips, resources, and photos of some of nature's finest animals.
Brett spends many hours, and will do just about anything to get close to a big mule deer. Although Brett's yet to kill the elusive "trash factor" buck he continues to enjoy his time in nature filming these animals, knowing they are still out there roaming hills alive and well.
Brett has taken several respectable bucks over the years and missed a few in the process, his greatest love is photography and videography.
Brett currently resides in St. George, Utah where he teaches school to 6th & 7th graders.  He credits God, family, and friends for all his happiness and success in life.
---